Follow the embankment where the steel rails used to run. Climb down into the 40-foot canyon. Find the marking on the washed-out culvert.
"1914"
This is your first clue of what happened on this land, an epic failure that paved the way for incredible opportunity. The story of Omaha's new sports landmark begins with an extraordinary tale of an abandoned railroad — a doomed project that would've made the Rockefellers and Vanderbilts cringe.
The history goes back to 1907 when railroads were Nebraska's economic engine. They accelerated Omaha's growth. From this urban hub, tracks sprawled like spider webs across the prairie. But it's a track that didn't come through Omaha that drew the ire of local merchants.
Burlington had built its Great Northern line from Sioux City to Ashland, not Omaha.
That made it more convenient for trains to go through Lincoln than Omaha. To businessmen of Nebraska's largest city, that was unacceptable.
The Omaha Chamber raised a fuss until Burlington made a promise: We'll build a shortcut from Yutan to Chalco, reducing the path from Yutan to Omaha from 49 miles to 22 miles. Problem solved.
The single track would stretch 12 miles and cross two rivers, but revenue in freight would make up for it. Construction began in February 1914 and was 1/4 complete when a bad economy stopped it. Work resumed in 1916, much of it by shovel.
By 1918, the project was almost finished. Grading done. Rails down. Crews even completed the Platte bridge. Then all hell broke loose.
With U.S. soldiers in the French trenches, the government ordered immediate removal of rails and material. America needed the steel elsewhere. How do you dismantle 10 miles of railroad you just laid? Locals protested and litigation stopped all action. For two years. In 1920, farmers sought again to open up the track for trade.
"I gave Burlington right of way through my farm 4 years ago for $1," Harry Cowles said. "The officials promised to open the road within two years. … Our farms have been cut up and we are deriving no benefit."
Finally, Burlington completed the Yutan-Chalco cutoff. And on May 7, 1923, it established regular passenger and freight service. For about eight months, the track worked fine. Passengers could go from Omaha to Fremont — or even Kansas City to Sioux City.
But maintenance issues emerged. Service suffered. Because of the steep 1.25% grade, Burlington actually saved money going around Ashland, despite the distance. What remained were gravel and sand shipments from the pits east of Yutan. Not enough.
Burlington argued that maintenance and operation imposed "unnecessary burden" on its business since the track had no public necessity or use. The railroad wanted to salvage its material.
In 1926, the year that Nebraska railroad miles peaked at 6,428, the protestors gave up. Burlington began tearing up the 12 miles between Chalco and Yutan, nailing the coffin of a financial catastrophe.
"This line never should have been built," the Burlington GM said.
Now, nearly a century later, a clever cynic might look at this history and conclude that a boondoggle is a bad omen for any project on the land, let alone one named after the railroad.
But you have to walk that old railbed stretching 500 yards across the property. You have to look at an Omaha golf market craving someplace new, bold and special. A throwback to golf in its purest form.
You have to look at the 25-year relationship of architect Scott Hoffman and developer Bill Kubly. And finally you have to look at Lost Rail's relationship with Marleen Muenster, the 75-year-old who lived on this land for 18 years after her husband's death, only agreeing to sell after Dirk Chatelain cold-called her and sold the vision. Secluded and spectacular. Destination golf on the city's edge. She loved it.
Walk around Lost Rail and the silence nearly lifts the stress right off your shoulders. Places like this are good for the soul, especially so close to home. If Burlington had succeeded, a world-class golf club wouldn't even be an option. You'd hear train whistles. Instead, these 155 gorgeous acres laid here quietly for 100 years as metro Omaha crept closer and closer.
100 years. Hiding in plain sight.
100 years. Waiting to be found.
---
Omaha World Herald published as Morning World Herald - Oct 24, 1919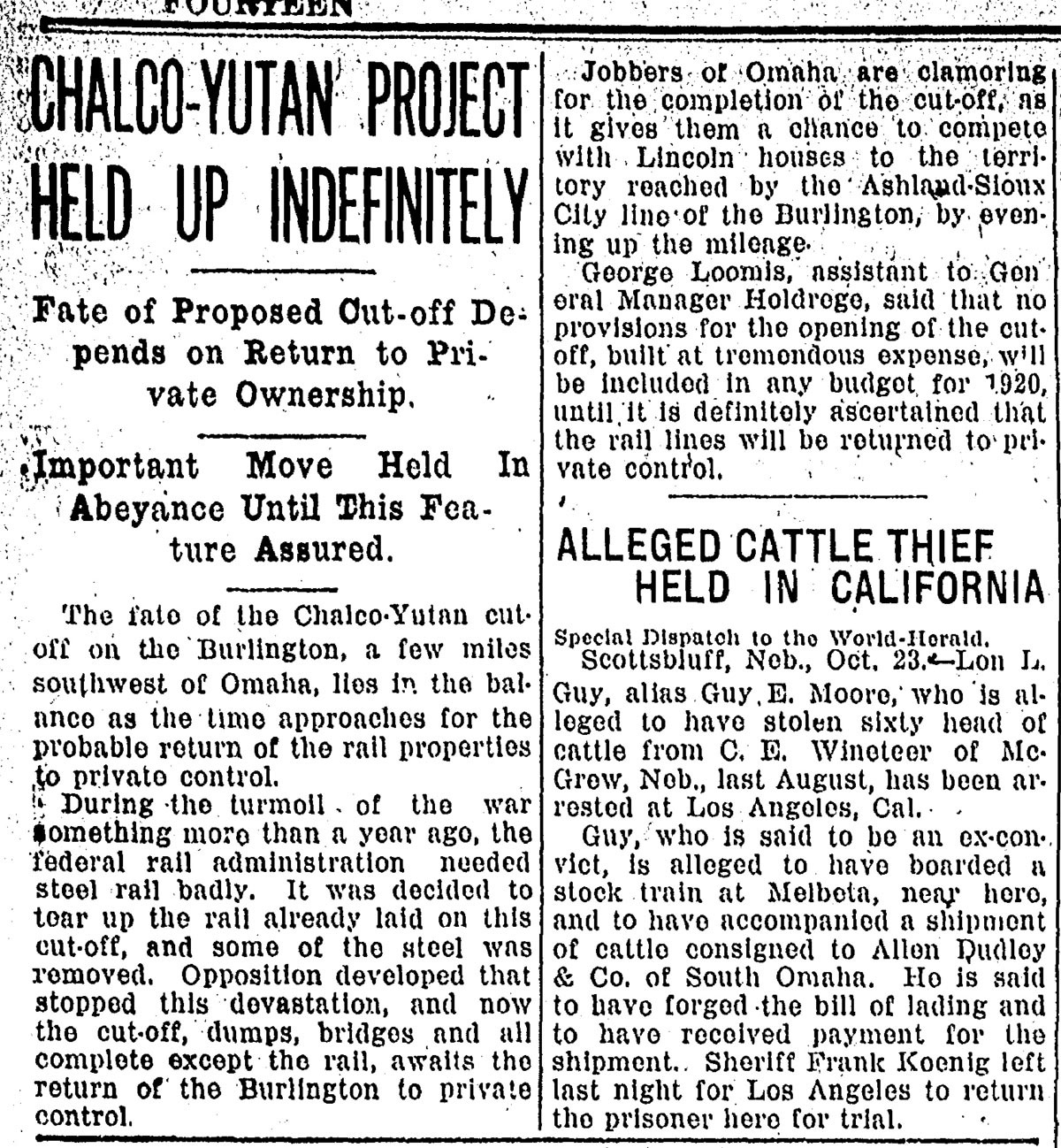 ---
Omaha World Herald published as Morning World Herald - Dec 3, 1921